Yes, this is true and it's my personal story.
Luckily, after of months of research and years of trial and error, I found out that by switching to clean food I could start to reverse all of that.
See the thing is, I thought I was aging, but in reality, I had simply been consuming food that did not serve me.
Food such as refined sugar was causing me to crave even more sugar filled junk food.
Like a recurring cycle, the problem was making the problem worse.
Have you ever felt like your health was negatively spiraling out of control?
Before I continue, I should point out that,
Clean Eating Is Not A Diet, It Is A Shift To Consuming Real Whole Ingredients.
In fact, you will probably end up eating more on a clean meal plan, while eating a greater variety of food than before.
Delicious food that is easy to prepare, and incredibly fun to make.
And food that will have a positive effect on your entire body.

Many of my friends, followers, and even family have noticed many of the following health benefits since adapting a clean food lifestyle:
A stronger immune system. – We're all getting sick less often
More natural energy, with less highs and lows through the day.
Stronger, more radiant skin, hair and nails. – hint: coconut oil works wonders.
Effects similar to "anti-aging." – I've been mistaken for being 10 years younger than I really am.
Increase confidence and self esteem.
A sexier body 🙂
An increased sexual libido (Yes, I went there!)
Less soreness, and joint and muscle pain.
More strength.
Why does clean eating work?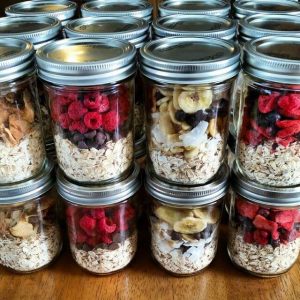 Because by eating foods that your body naturally craves and desires you are simply optimizing and feeding your body the way it wants to be fed.
This is a shift from eating emotionally based on information that was fed to you throughout your life by big brands and their marketing and advertising campaigns.
So why isn't everyone doing it?
There's A Few Reasons Why Most People Are Not Eating Clean Food Already.
Well simply many people do not know how to eat clean healthy food on a regular basis.
At first, I didn't know!
Then there is the common misconception that clean food takes a long time to prepare or costs a lot of money.
That's not true either, I have figured out a way to feed 4 hungry growing (almost too quickly!) children, AND they enjoy the food too.
By following my eating blueprint you will find the food your body craves, without needing to take out a second mortgage on your home.
And they're easy to prepare too, because you're focusing on using simpler, more flavorful ingredients.
All of my recipes includes REAL everyday ingredients, that I can prepare quickly and leaves me with a realistic receipt when I check out.
For the past 5+ years, I've been sharing my recipe ideas on instagram and a facebook page, and the feedback has been sooo amazing.
People LOVE my food, and now I have a lot of friends.
And everyone has been asking me for more information, a meal planning guide, more recipes, and a simple food prep guide.
For a long time I didn't want to, because who was I to share with everyone else how THEY should EAT.
Except after a while, and talking to some of my friends I realized that my past didn't matter.
What did matter was that people wanted to learn from me, and know what I was doing that was working right now.
Something designed for an ordinary person.
Now I Want To Share With You The Exact Formula Of What Has Worked For Me And Gotten Countless Others Results!
What I found was if someone could just stick to a clean eating lifestyle for 30 days they were much more likely to continue eating real food.
The problem is, most people can't do this, because they don't know what to eat next, become frustrated and give into temptation.
The First 30 days are the most challenging because you're kicking a habit of eating the wrong food. You're breaking the addiction.
That Is why I've created my 30 Days of Clean and Easy Recipes.
This brand new meal planning guide is filled with UNIQUE recipes including:
30 Breakfast Recipes
30 Lunches
30 Dinners
and 30 dessert and snack ideas
While I was spending months preparing this program I realized something.
The recipes alone would not be effective enough for someone to switch to clean food completely.
There would be roadblocks along the way.
One of the most important parts of shifting to clean food for me has been food prep because it saves you time, keeps you prepared with a fridge full of food you can eat, and leads you to sticking to the plan.
"If you fail to plan, you plan to fail."
That is why I created my 7 Steps to Simple Food Prep
This is a how to guide for ANYONE to get started with food prep and in a realistic fashion immediately!
In This Book I Share With You:
What you should buy to start food preping – You won't spend a whole lot if you do it my way!
The most common food you should start prepping.
How to keep wasted food down to a minimum.
Tips on how to prepare awesome lunch for your kids, significant other, or yourself.
Except that's not it, you're also going to get my guide to 55 Fast, Easy and Delicious smoothies
Because smoothies are a great snack between meals, and a nutritional alternative to eating emotionally.
My top 10 favorite smoothies
Including my almost famous coffee shake.
A getting started guide for smoothie rookies
and my recommendation for the last blender you'll ever need.
With all of this delicious food you will now be consuming you'll want to be able to write it down, so I've also included my 30 Day Meal and Nutritional Tracker.
When any type of data is measured, your results can be improved.
I was going to recommend you just head out to Target and pick one up for $12-$15, but I decided to include it for free when you purchase my 30 Day Clean Food Program.
There is one more factor required in shifting to a clean food diet.
And that's a community, a support group of other people who are also trying the recipes, preparing the food, snacking on smoothies, and tracking their meals.
So rather than sending you out into the wild to find others following the guide,
I've also created an exclusive Facebook Group for customers of this program.
My business mentors have said that I'm out of my mind for offering this product so inexpensively, but in reality I simply want to make this information accessible to the masses.
I purposely made sure that the Clean Food Crush Collection was created at a price that anyone could afford.
I did not want money to be the deciding factor for someone investing in their health & body.
And I also knew that by selling this set, rather than giving it away for free, that those who get started will take it seriously.
If that is not good enough then don't worry because I do have a 100% Money Back Guarantee.
Simply contact us within 30 days and we will return your money.
But you won't have to do that!
Because when you order today you will receive INSTANT ACCESS to all of the products.You will not have to wait for anything to arrive in the mail because you will be able to access Clean Food Love from anywhere, on any computer, tablet or smartphone.
I promise you that these are some of the most simple, fun, and delicious recipes, filled with nutrients and packed with flavor.
You do not have to be a professional chef, or even an experienced cook to create any of these meals.

Rachel
Ready to secure your order?
Frequently Asked Questions (F.A.Q.)
Q: I have already ordered all of this. Please help me find where to find the files, recipes, etc?
A: Unfortunately, sometimes our product access email can go to your spam or junk box. First, please check there, 90% of the time our customers find their access email hiding here. If you still cannot find your product access please email us at: CleanFoodCrush@gmail.com
Q: I would like the books and not an e-book. Do you have those available, Please let me know because I'm interested.
A: At this time we DO NOT have plans on making this bundle available in physical form. The demand for the digital version has exceeded our expectations, and we are currently focused on providing the best online product possible.
Q: Are we able to purchase and download the books individually?
A: No, the books are not offered individually because they are meant to work together in creating your clean eating plan. Used separately they would not be as effective. Hope this clears up any confusion! 🙂
Q: I would like to see some recipes before I purchase.
A: Make sure to download our FREE eCookbok at http://CleanFoodCrush.com/7days You can also visit the blog: CleanFoodCrush.com & you'll have a very good understanding of the recipes included.
Q: How long is the digital access good for? 30 days? Forever?
A: You will have lifetime access, you can also download and save the books to multiple devices.
Q: How much does this cost? Is there a monthly fee?
A: The entire bundle is a ONE TIME payment of only $37.
Q: What do you consider clean food? Our family eats primarily Paleo/Primal (we do some dairy, little to no grains, and no gluten.
A: Our recipes are VERY similar to what you do…although, we do have several servings per week of Oatmeal or quinoa, occasionally brown rice. Very little dairy. 99 percent Gluten free. A huge amount of people who follow my recipe eat the way you do & they find something they love almost daily!
Q: My children & husband are very picky eaters. Are there recipes they will enjoy?
A: I have 4 kiddos! ages 7-13…several are a bit picky & these recipes are what I feed them! 🙂