Hi I'm Rachel,
I used to be an unhappy, sugar addict, who was having trouble keeping up with my 4 young children and feeling old. You know… the "typical aging" process many of us feel.
I'm happy to say that by shifting to a diet of "Clean Eating," I have been able to reverse many of the negative feelings of aging that I was experiencing.

I've been "Eating Clean" for quite some time now, and I'm proud to say not only does it work, it's something you can stick with for LIFE!
It took years of research and many more years of trial and error to find the simplest way for someone to switch to a diet of primarily Clean Eating.
Following what I learned I had seen many friends and family have major results by slightly tweaking how, and what they were eating on a daily basis.
And that's why I created the 30 Day Clean Eating Challenge.
In the past 3 years, we've had over 22,410 amazing individuals go through our Clean Eating Challenge, and many of them have continued to follow the plan for a year or more.
Why? Because it works, AND because it's a plan that's actually realistic to stick with!
We created this program as the perfect companion for someone looking to improve their health by eating REAL food.
That's right, we're simply eating differently than today's society 'norm,' eating REAL foods, and experiencing amazing results because of it.
AND the best part of all… the food we eat isn't boring!
This program is exactly what I would have wanted when I started eating clean because of two key factors.

What do I mean by Accountability?
Just simply reading a few recipes online will not change the way you eat.
You require a system to keep yourself committed to your clean eating lifestyle.
And when it comes to a plan, you can not simply guess your way to success.
(I tried, it doesn't work!)
In fact, it's taken me over 3 years to figure out the exact Clean Eating Plan that you can easily follow for success.
(One you will stick to, rather than being bored from after a few weeks)
I have found that in order for Clean Eating to have an effect on your health,
you require:
1. The correct eating plans. (So that you stay full, with the right foods)
2. Friends that are also eating clean. (Positive Peer Pressure!)
3. A leader to show you how, hold you accountable, and answer your questions! (Especially on days with Major Cravings.)
And that is exactly why this program works!
Read these Recent Testimonials to hear how THIS program has worked for countless others.








Our Next CHALLENGE begins Wednesday, February 27th, 2019!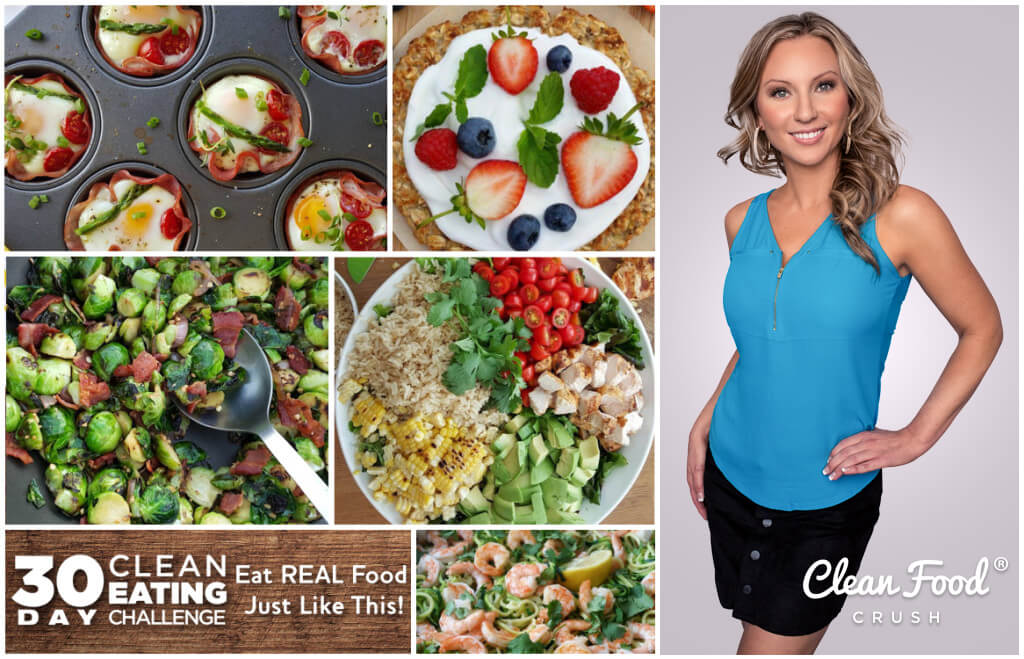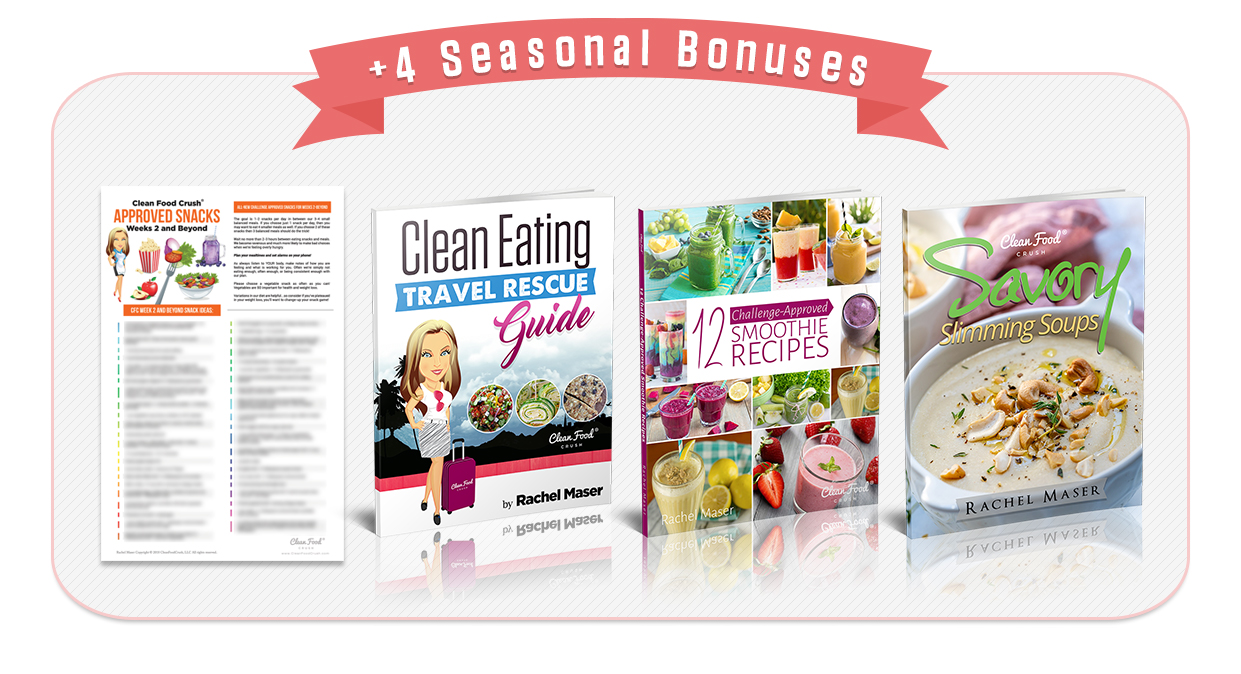 Judy
Lost 19 lbs

and Found Inspiration with the 30 Day Clean Eating Challenge!

Before the 30 Day Clean Eating Challenge – 138 lbs
After the 30 Day Clean Eating Challenge – 117 lbs
"If you have any doubts about Rachel's challenges or program, banish them away. Give it a chance and it will work. I am 56 years old, 5'2″ and 117 pounds now. I was 138 pounds and chunky on day 1"
Judy – Clean Eating Since March 7, 2016
This whole foods program is NOT about starving, fasting, juicing, only drinking soups or smoothies, or buying lots of supplements.
The 30 Day Clean Eating Challenge is a return to eating meals made with 100% Real Ingredients.
By following the plan included:
Many days you'll actually eat MORE food than you're used to.
(Yes a meal plan where you'll actually "feel fuller!")
Over time your late night snack cravings will nearly vanish.
Your body will be filled with healthy nutrients.
And your friends and family will notice how you're changing for the better!
Here is what's included when you order the 30 Day Clean Eating Challenge:
30 Day Clean Eating Guide

An exact step-by-step plan of what you should eat, and how much to eat on a daily basis while on the 30 Day Challenge. You will be given simple directions & prep ahead instructions to make this as simple as possible.
In the first week we will detox all the bad stuff and be on a specific "diet."
(You'll be skipping sugar this week.)
In the following 3 weeks the plan will re-introduce many ingredients back into your lifestyle. These are meals you can be making and eating for the rest of your life.
You'll have access to:
A 4 Week Recipe Guide: You will have recipes that are created with a focus on decreasing inflammation, decreasing cravings and keeping you satisfied.
Shopping Lists for the 30 Day Challenge & BEYOND!
Clean Snack Recipes for in between meals.
A guide to "Good Foods" & "Foods to Avoid."
30 Days of Daily Support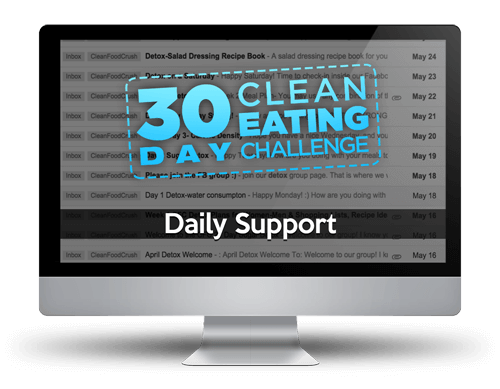 Educational, science based and proven mind-set training to change the way you think about nutrition. These messages WILL keep you on track and sticking to the plan.
Meal Prep will also be a huge topic of these messages. Fail to Plan = Plan to Fail.
These are NOT cliches' about positive thinking.
Our previous challenge members have found this supprt to be extremely helpful to getting through the entire month.
Meal Tracker

Research shows that the act of writing down your daily mood & nutritional intake is key to reaching your goals. You will receive a simple, easy to print out, daily meal & mood tracker so that you can hold yourself accountable and see your results on paper.
Private Online Group
My team and I (plus a whole big group of amazing people just like you – people who will be your biggest supporters and cheerleaders) are waiting for you!
I often hear that not having the proper support at home is a major hold back for desired lifestyle changes. Studies have shown that people who have social support will lose more weight, than those who are trying to lose weight alone.
Being apart of this engaged group of people with the same goals, is a fun and powerful way to experience change.
At the end of the 30 Days, many of group members are most grateful for this community.
Access Your Challenge Materials in Your Easy to Use Member's Area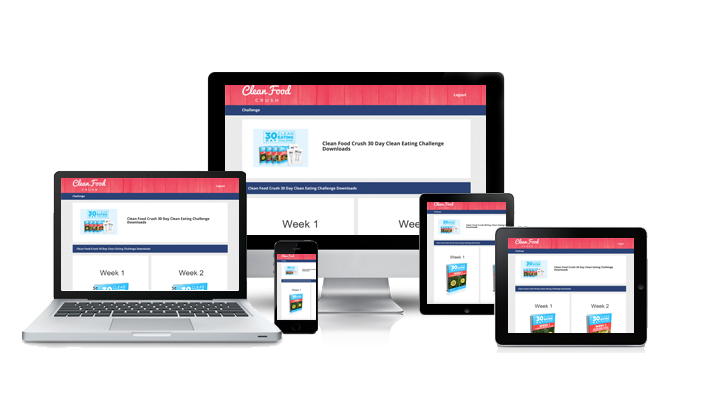 Meal & Menu Planning Guides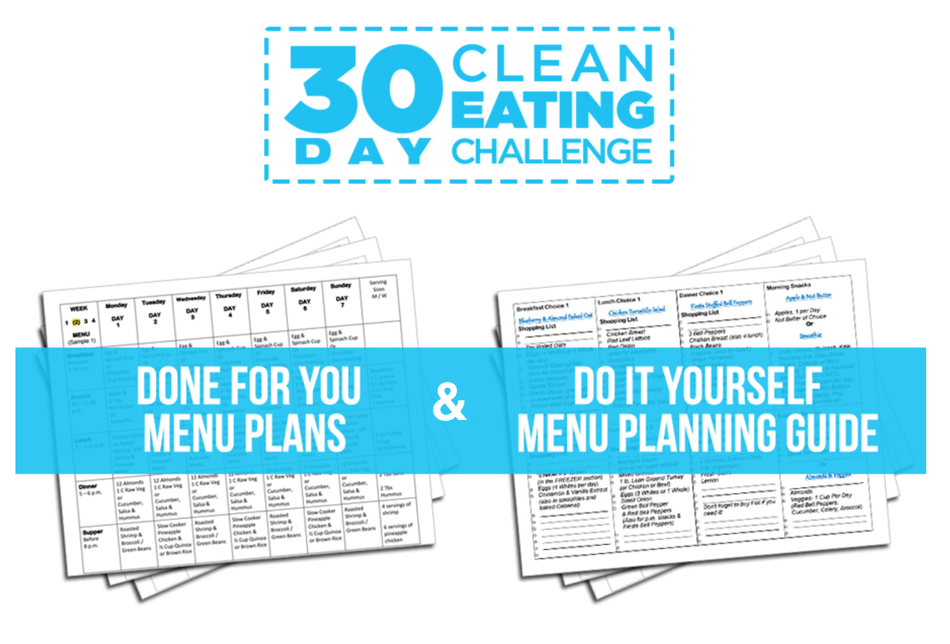 Simple printable Charts to simplify eating for a lifetime! Create your own weekly plan, or use one of our pre-made plans. This will keep you organized while on our clean plan.
Unadvertised Bonuses
Inside every challenge group I add one or two of my eCookbooks as extra bonuses. I want you eating clean all the time. 🙂




Exclusive Discounts
Early Access to future CFC groups, products, cookbooks, and retreats.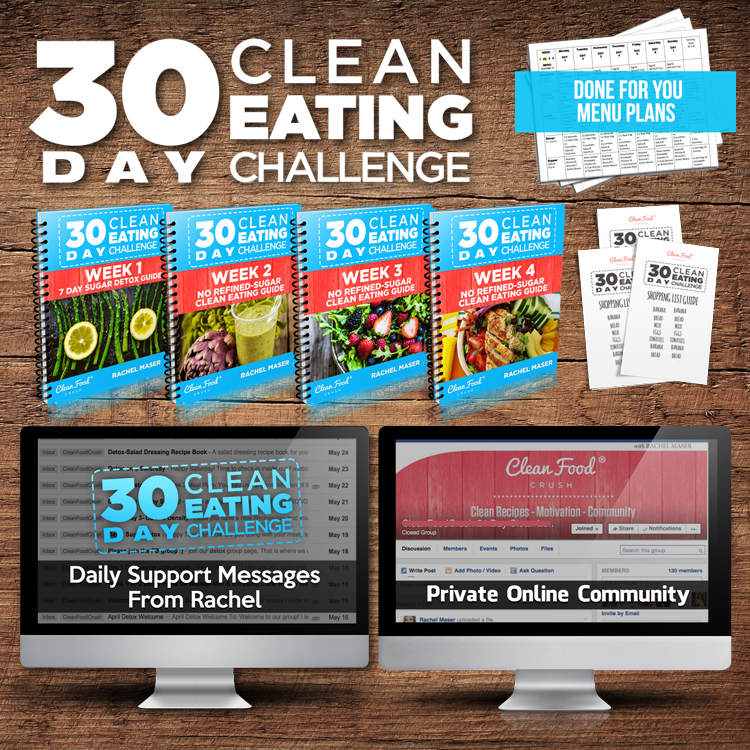 With all the material you receive in the 30 Day Clean Eating Challenge many people have told me I could charge $500 or more for access to the program.
However, I wanted to offer this program for a price nearly anyone could afford.
That's why the Clean Eating Challenge is only $147 $97

Recent Testimonials







Limited Availability – Get Registered Today!

Warning:
Please keep in mind that this program will NOT work for excuse makers.
The first 4-5 days are HARD. Plan on using some willpower!
If you believe you require a change, and deserve a healthier, happier body, this program is for you.
If you have some discipline, are willing to try something different, and want to see the results of resetting your body's to enjoy whole foods, then I want to work with YOU!
This program is first come first serve, and there are limited spots available.
Or use our easy payment plan to get started today for only $59 (and pay $59 more in 30 days)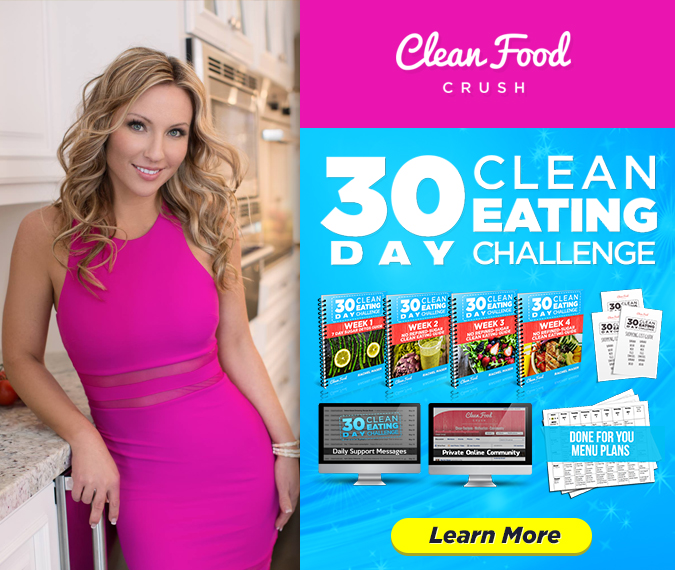 You will be added to the group within 24 hours.
NEXT CHALLENGE begins Wednesday, February 27th, 2019 Registration ends soon!
See you in the challenge group! It's going to be a lot of fun!
Love,
Rachel
Testimonials







Remember – you get access to the 30 Day Clean Eating Challenge for only $97.
You will be added to the group within 24 hours.
CHALLENGE begins Wednesday, February 27th, 2019. Registration ends soon!